Season's Eatings: new winter menu and Tennerfest at Greenhills
15 Oct 2021
Autumn is in full swing here in Jersey. The leaves on the many trees that surround our country house hotel have turned a golden hue of brown. For Lukasz Piestrasz and his kitchen team, the time has come to release their winter 2021 à la carte menu.
As ever this menu embodies everything we love about Jersey, with influences as diverse as the Greenhills team themselves. It's a wonderful example of what you can achieve when you match locally-sourced seasonal ingredients with culinary techniques and styles from around the world.
The new menu caters for all tastes. As well as our game, poultry and seafood specialities, we have a number of expertly-crafted vegetarian and vegan dishes.
Keep reading to learn more about some of our favourite dishes from the new winter menu.
The perfect introduction
The new range of starters give a fantastic insight into what Lukasz and the Greenhills kitchen team are all about.
Adventurous souls are encouraged to try the pigeon. If you're looking for local delicacies, the oysters or scallops will satisfy your cravings. Vegetarians would be wise to go for the smoked tofu tataki, but for this writer it was impossible to look past the beef tartare.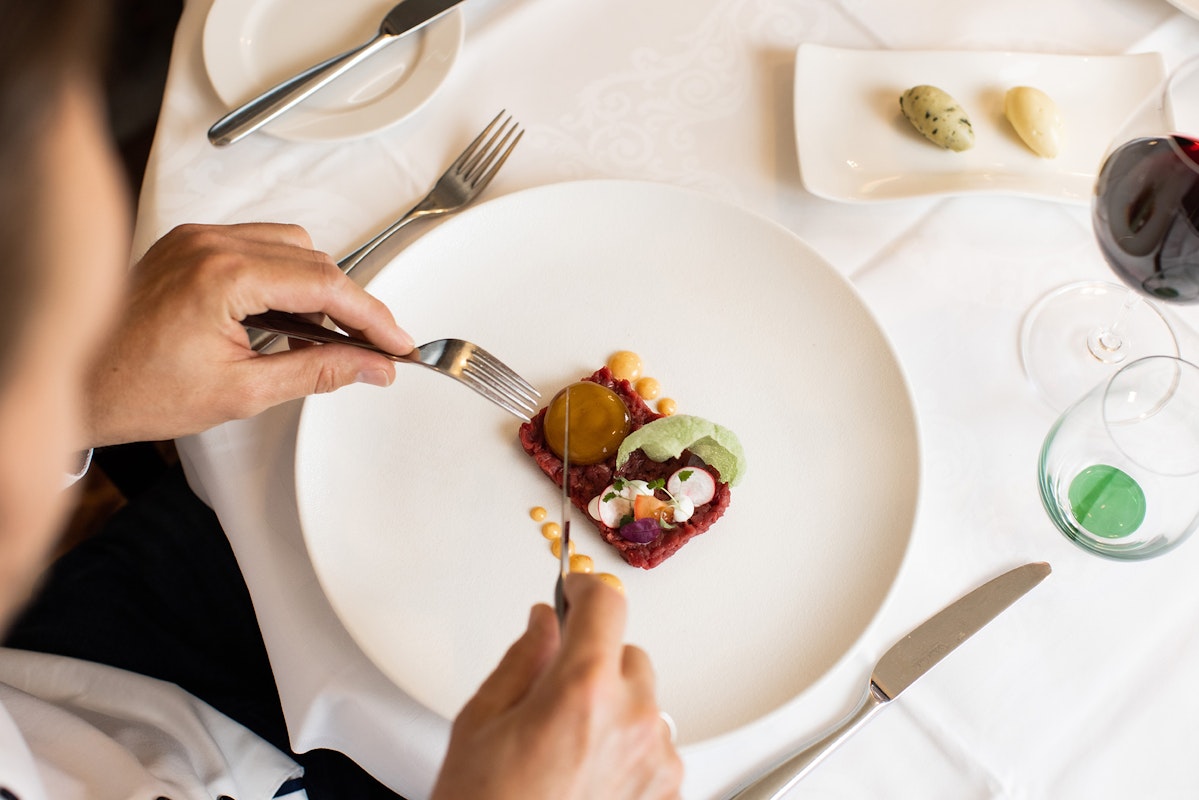 Beef tartare
Stunningly presented and perfectly balanced, this tartare is out of the ordinary. Locally-sourced beef melts in your mouth, while the garlic emulsion and wild mushrooms bring a comforting earthiness that's befitting of our countryside location.
Time to get adventurous
For guests who've committed to the steak before stepping through the door, you'll be pleased to know we only serve the finest Irish prime fillet, paired with an oxtail and potato pressing.
If, however, you arrive with an appetite for the unusual, the Venison Wellington is the perfect choice. We've replaced the standard beef element with a tender cut of venison.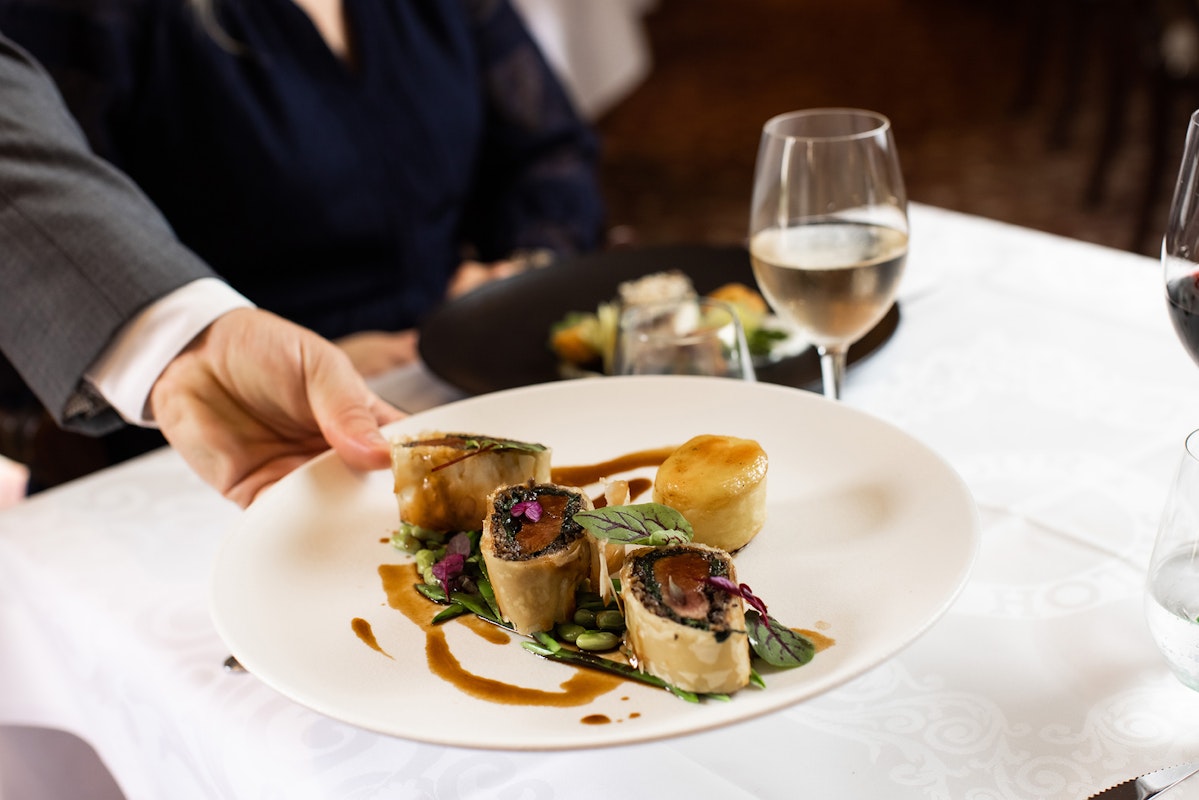 Venison wellington
Flaky puff pastry moves aside for crispier filo, and a fluffy fondant potato finishes off this clever twist on a classic. The dish packs a serious flavour punch, but you'll find venison a lighter option than the traditional beef - just right when dessert is the on the horizon!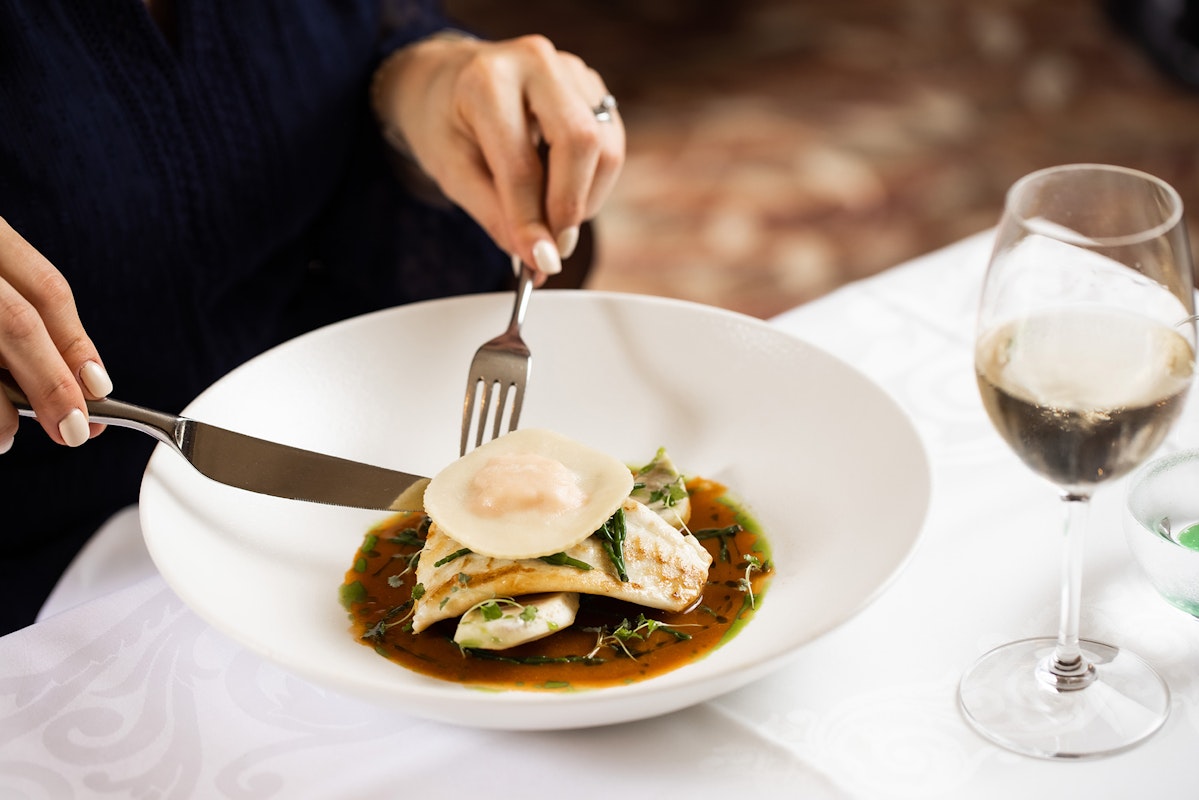 Turbot with lobster ravioli
For seafood lovers the turbot dish combines two of Jersey's most prized ingredients - a fillet of locally-sourced turbot, and lobster wrapped in a handmade ravioli-style shell.
Eye catching, mouth watering desserts
Guests usually arrive at the dessert course with one of two requests. Something light or something rich.
If you're after something light so you can continue the evening's party, you can't go wrong with Lukasz's Panna Cotta. Perfectly set, infused with vanilla and topped with berries and champagne, it's a wonderful way to transition to post-dinner celebrations with plenty of pizzaz.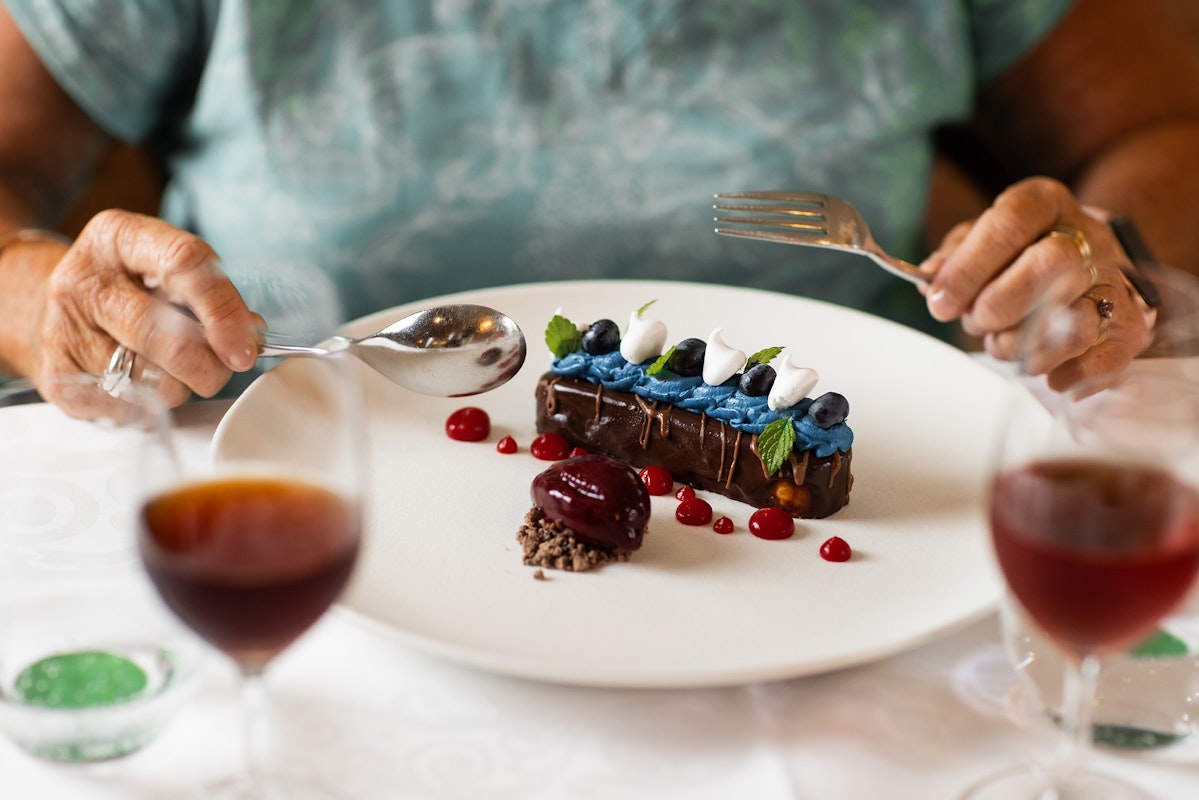 As eye catching as it is delicious: our coffee slice
If you'd prefer something rich before melting into the lounge sofa, we recommend the coffee slice with rich chocolate cream and crispy espresso meringue. It's as beautiful as it is tasty, a perfect end to your evening.
You can view the 2021 winter a la carte menu here. If it inspires your tastebuds as it should, call our friendly hotel team on +44 (0) 1534 481 042 to book a table, or alternatively you can now book directly on our website.
Tennerfest - A chance to learn what our food's all about
We love welcoming new faces to Greenhills. Tennerfest offers guests who haven't dined with us a great opportunity to come a see what we're all about, and sample the dishes we love to cook.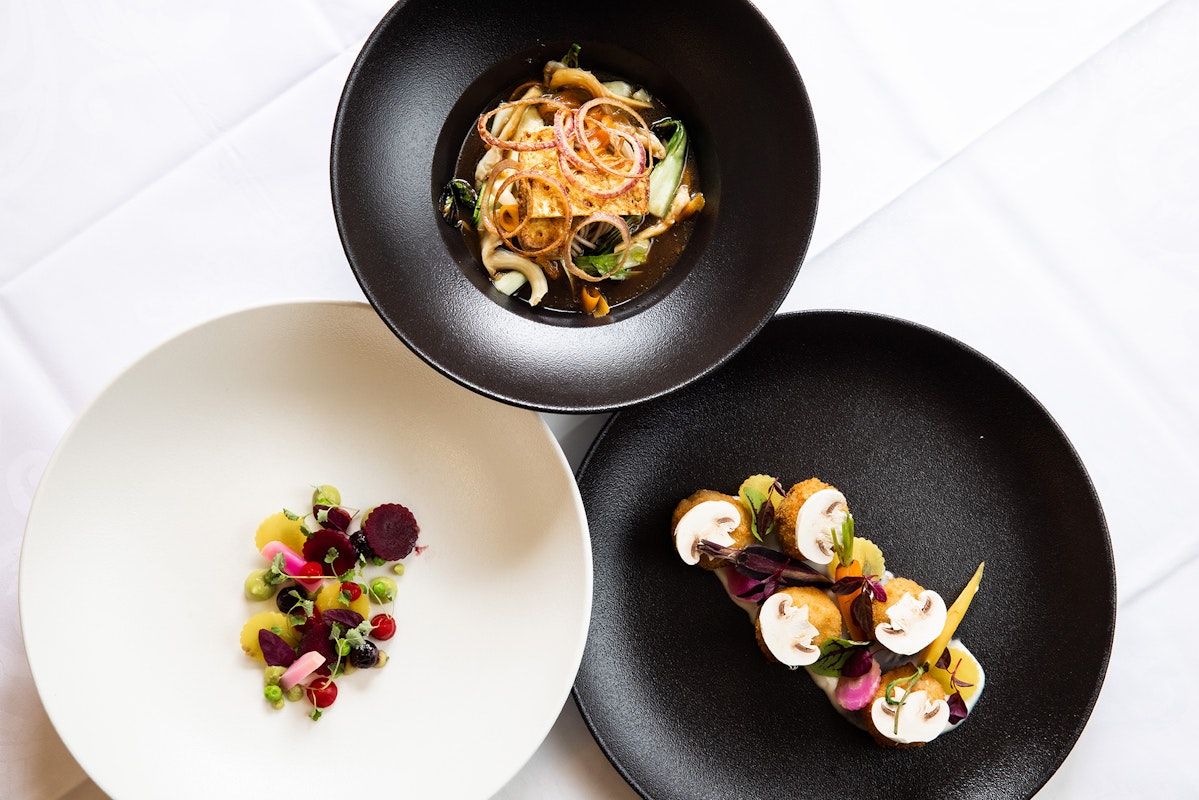 A selection of our Tennerfest dishes
Our Tennerfest 2021 menu is designed to do just that! We haven't toned down any of the creativity, so if you're looking to try something unusual at a considerable discount, book a table during Tennerfest.
You can view the Tennerfest menu online and book a table by calling +44 (0) 1534 481 042. We expect to be extremely busy during the rest of the Tennerfest period, so please book well in advance. We apologise if your preferred date and times aren't available.
Back to News >